Disney, 17 Mart'ta sinemalarda olacak yeni filmi #BeautyAndTheBeast için Twitter'da farklı reklam ürünleri ile kullanıcılara aksiyon aldırarak oyuncuların video içeriklerini paylaştığı bir Sevgililer Günü kampanyası ile karşımızda!
Öncelikle 14 Şubat boyunca İngiltere'de Promoted Trend ürünü ile Twitter trend listesinin en başında yer aldı.
Disney, @BeOurGuest Twitter handle'ı ile kullanıcılardan 4 seçenekli Conversational Card ile filmdeki 4 oyuncudan birini seçmelerini istedi. Sonrasında ise, 4 oyuncudan birini seçen kullanıcılara Auto Reply ile o oyuncudan özel Sevgililer Günü mesajını kullanıcılara mentionladı.
https://twitter.com/beourguest/status/831192021960269824
Bir diğer üründe ise Disney kullanıcılardan tweeti beğenmeleri (❤️) karşılığında yine kişiye özel Auto Reply ile oyunculardan birinin #BeOurValentine mesajını paylaştı.
https://twitter.com/beourguest/status/831544802357284864
Kampanya süresince Fooji işbirliği ile @BeOurGuest handle'ından atılan tweet'e + #BeOurGuest hastagi ile cevap veren arasından seçilen kişilere 1.5K tane ender bulunan ve aylarca solmayan LuxeBlumes çiçekleri dağıtıldı. Ayrıca birkaç kullanıcı Los Angeles ve New York'taki galaya davetiye kazandı.
https://twitter.com/beourguest/status/831564399278125057
Oyunculardan Luke Evans ile  #AskLukeEvans  hashtag'I üzerinden Q&A yapıldı.
No one answers questions like Gaston. Submit your questions now for @TheRealLukevans using #AskLukeEvans for a special Q&A tomorrow! pic.twitter.com/dltUEW4fcK

— Beauty and the Beast (@beourguest) February 14, 2017
Disney, İspanyolca, Portekizce ve Rusça gibi çeşitli dillere çevrilen #BeOurGuest and #BeautyAndTheBeast hashtagleri altında Brand Emoji ürünü kullandı.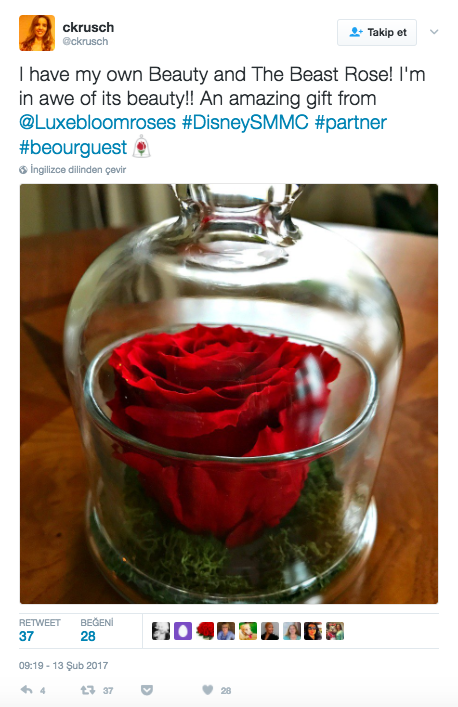 Read More